The old city of Tel Aviv has been become his work place and home. It is a "cultural capital" abundant of the arts and history that has been a primary source of inspiration for Koro—reflecting in his tattoo art and the ethnic-mix of interior design of his private studio called "Dumiya" (meaning "silence" in Hebrew). This Russian-Israeli tattooist adores exploring avant-garde (abstract) concepts for his clients, some of the tattoos have symbolism and others are just aesthetically fitting on their bodies.
Above: Client Anna didn't want to see the tattoo design, until it was completely inked on her head by Artem Koro.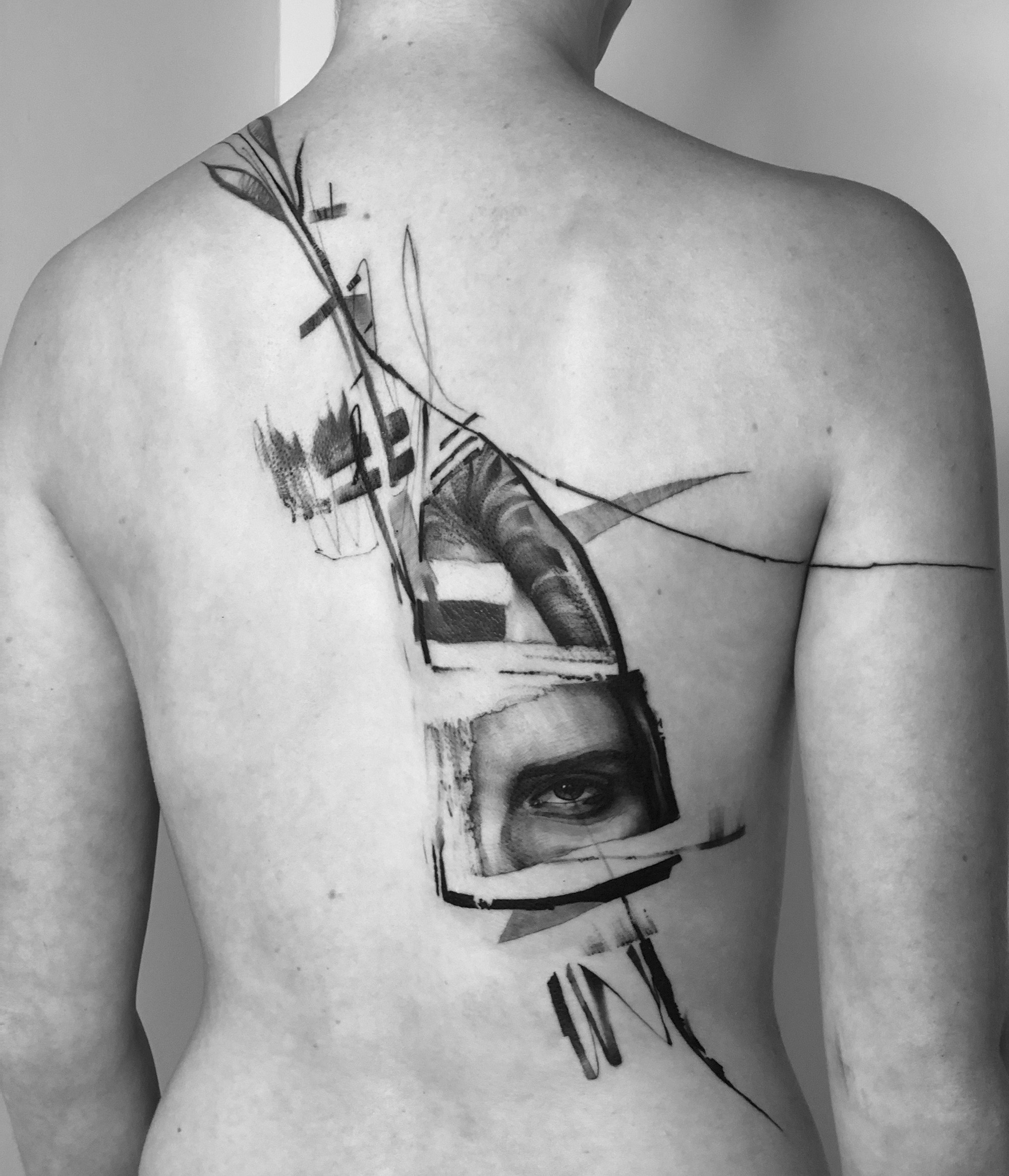 Expressive and experimental lines and shapes form many of Koro's tattoo art.
About five years ago you were tattooing friends at your mom's house. Fast-forward to present day, you are a studio owner in Tel Aviv. How hard was it to become a professional tattooer?
It was not that hard. It was an amazing path. I think if you really love what your doing, nothing is hard! It's just super interesting and you always want to know more about it.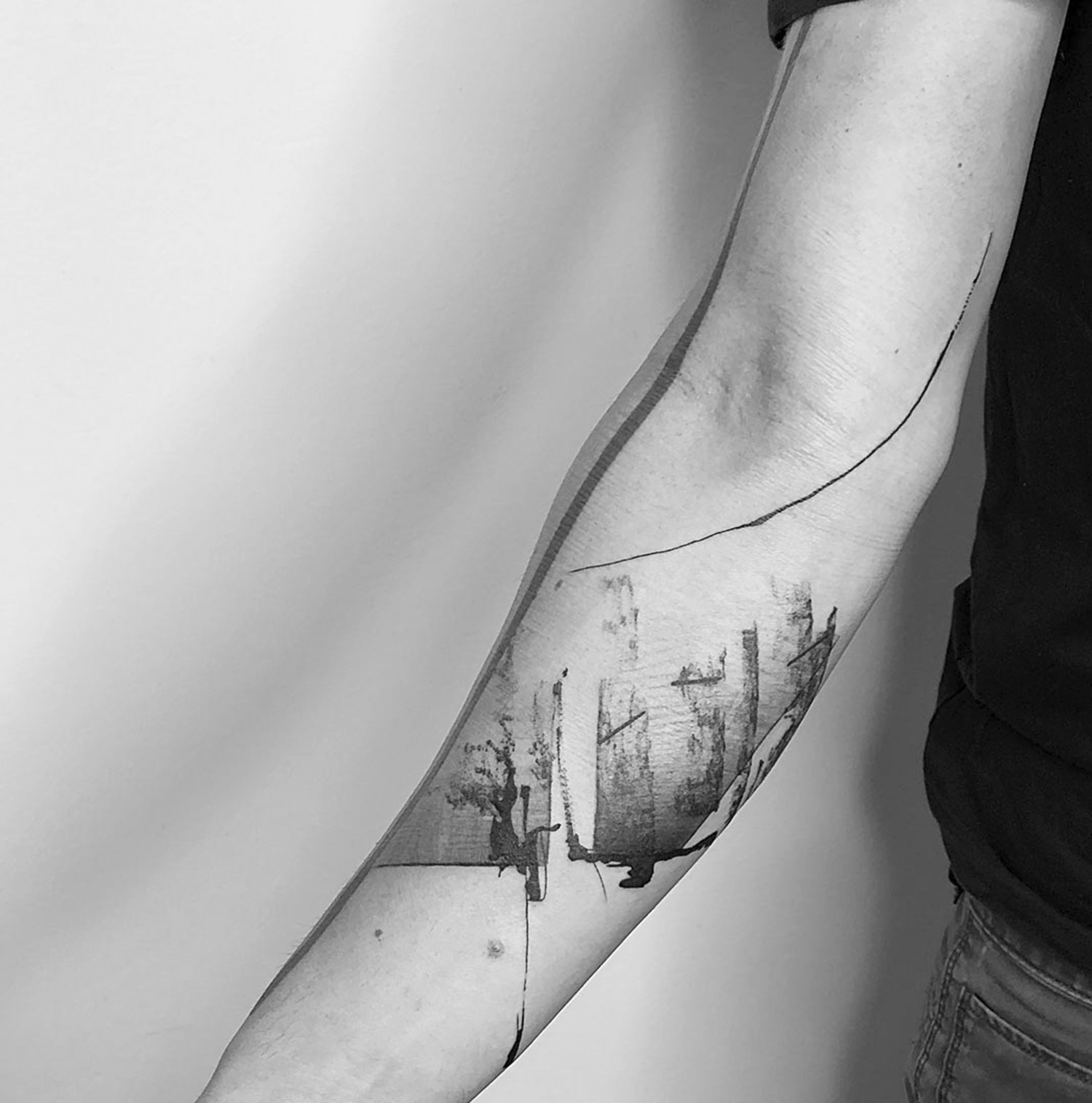 Textures and ink-like brushstrokes are done effectively in black ink.
Before launching your atelier in Israel, you traveled for two years to countless countries. Tell us how traveling broadened your outlook on life?
For me, traveling is one of the important things, [just] like tattooing! So together it is a bomb! When you travel, you meet new people, which inspires you a lot and of course it changes you—you start to be more open-minded.
Your studio is beautiful in terms of its interior design and the merchandise you sell, in addition you have a great personal styling. What locations, people, or things have been a reoccurring inspiration for you?
Ah, thank you so much (smile). About the inspiration, the atelier is super close to the flea market, and it is a place you can get a lot of nice stuff. Especially from Middle East, some nice ethnic stuff!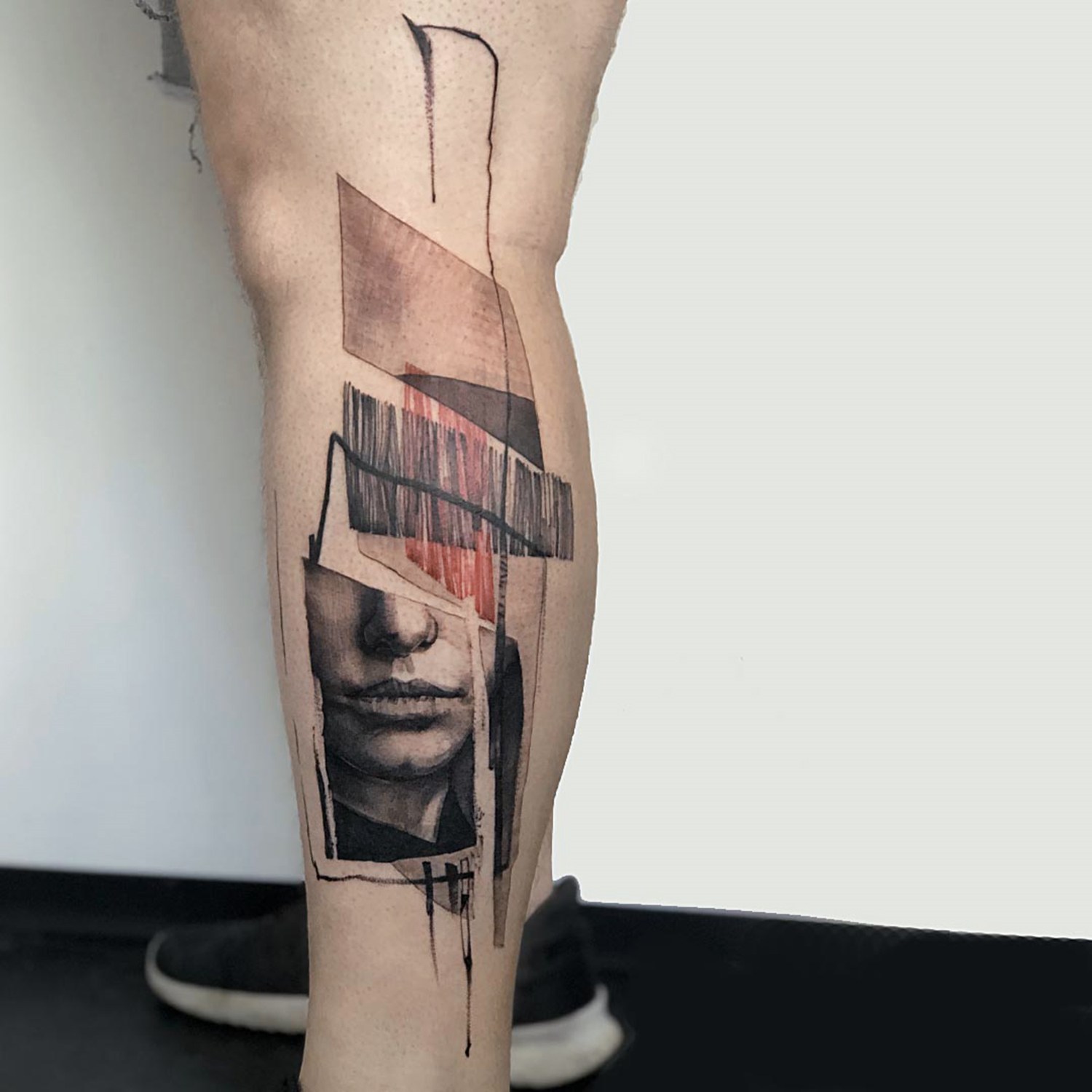 Although Artem Koro uses an iPad for illustrating, it is noticeable he still likes hand-drawing.
You've considered your artistic style as a form of "avant-garde." Have you always been forward-thinking and experimental?
I always think out of the box. I experimented [much] before I began tattooing, and I have always experimented while tattooing (i.e. in the technique of how I make my designs). I like trying new things and still looking for my thing!
Koro creates this cover-up tattoo for his client Polina.
Do your abstract works have intent/symbolism, or are they non-descriptive/ornamental?
Especially if you are asking about my abstract work, that work is more about feelings and the right composition (flowing on the body), it is less about meaning [symbolism]. But the other graphic works that I am doing, [can have] meaning for the client and myself, [like for example related with] "duality"—the bad, the good, the ugly and the beautiful.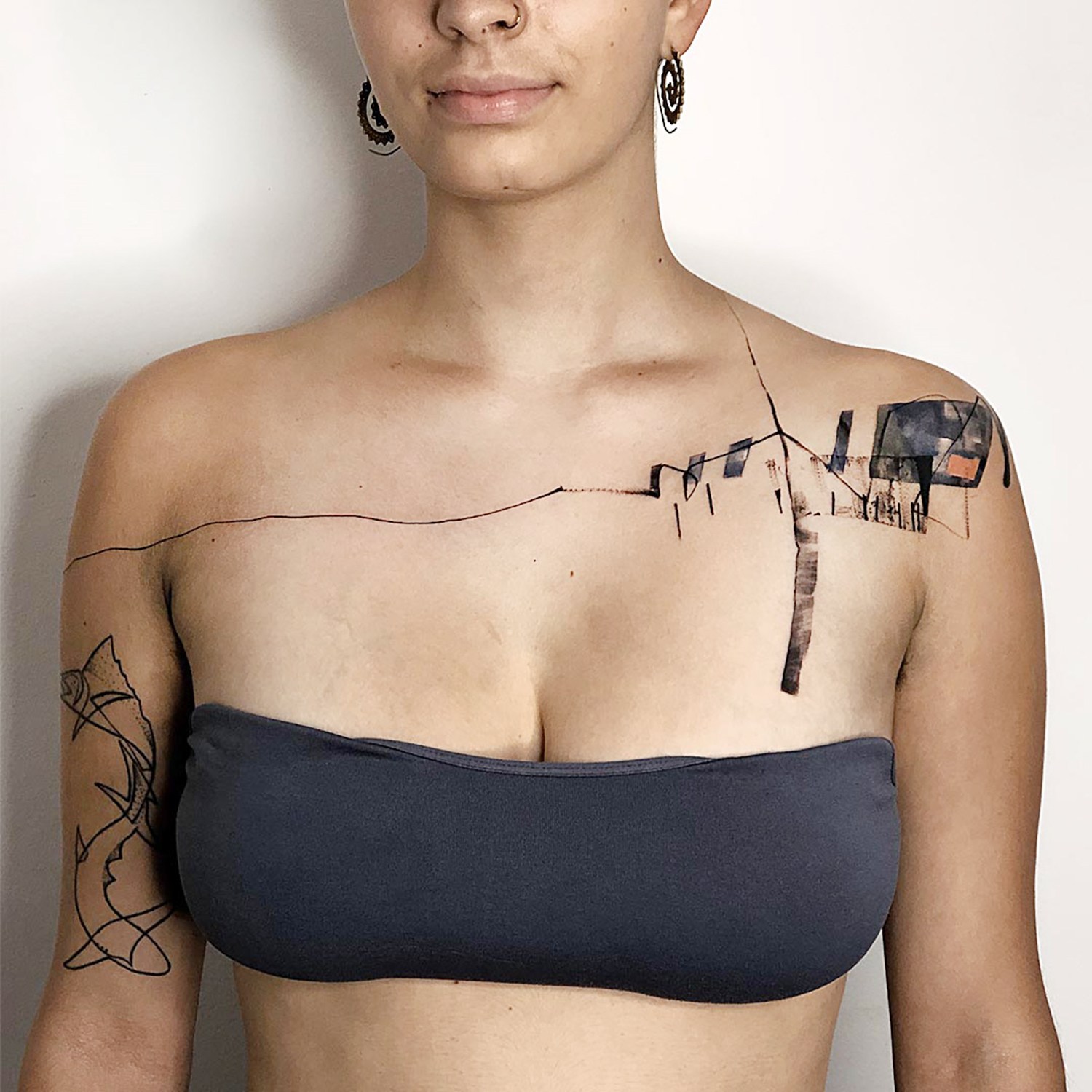 In the chaotic abstraction, there is a great sense of balance and movement in his compositions.
When preparing a tattoo design, are you meticulous or spontaneous?
I make my designs on the same day; they are more spontaneous now. Most of the things I do digitally [are done on] iPad with Adobe Photoshop Pro. I have made my own textures with brushes and different kinds of tools. I also try to hand-draw as well. I love to mixing and experimenting a lot.
How smooth or challenging has it been managing your studio with your girlfriend Shiran (who is also a tattooist)?
I think smooth enough (smile). We are together almost 24/7, and we feel good about it. We are moving forward together [romantically] and we are best friends; what can be better than this? (Smile.)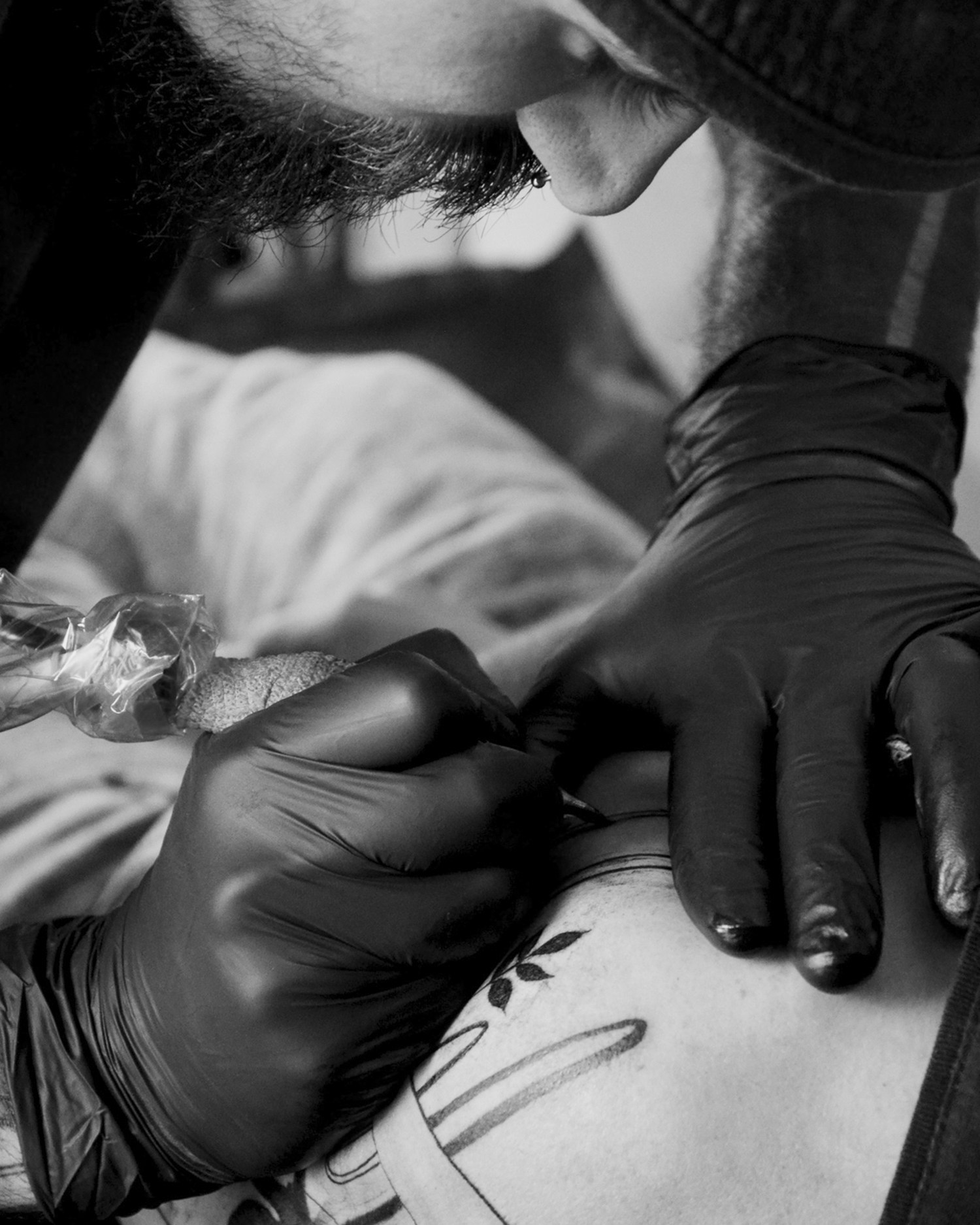 Tattoo artist Artem Koro in his private studio in Israel.
You seem happily settled in Tel Aviv, however, if you had an invitation by a reputable tattoo studio in the United States, would you move and work there?
I am good here in Israel … but I think "my time" is telling me to move forward with bigger dreams!
Photos © Artem Koro. / ht: scene360.com