The Signet Collection has revealed design details for its second hotel, The Retreat at Elcot Park, launching in Spring 2022. Housed in a Grade II-listed, 18th-century building located between Hungerford and Newbury, The Retreat has a storied past, once being the childhood home of English poet Percy Bysshe Shelley.
Following the success of its debut property, The Mitre Hampton Court, The Retreat will continue the brand's design aesthetic, blending old with new as well as quirky British sensibility. London-based luxury interior design practice Taylor and Turner is the creative lead behind its transformation, which nods to both the history and location of the picturesque country house. Tasked with a fun, escapist and element-of-surprise oriented brief, the result is a design that is both classic, contemporary and filled with unexpected twists.
The hotel's 55 guestrooms, including three suites, all celebrate its individual heritage. Each champions the very best of British design, with many containing eclectic antiques sourced by local dealers. Whilst antique furniture and traditional elements remain throughout, punches of colour are clearly visible. Guests will also be spoilt for choice when choosing from views over the nearby Wessex Downs, the gardens or courtyards.
Every floor has a theme too, with rooms named after champion racehorses, famous jockeys, local points of interest, or nods to British country pursuits such as shooting, fishing, hunting and racing. Meanwhile, the three Signature Suites take cues from previous inhabitants: the Sutton, Bushby Bacon and the Percy Shelley.
The Sutton Suite features Watts of Westminster's hand-blocked 'Pineapple' wallpaper, which provides a contrast to the duck-egg blue doors and skirting boards. Key design elements include a pomegranate Sanderson bed canopy with a Fermoie striped headboard, and a roll top copper bathtub in front of large bay windows. A blush pink Mimi Pickard sofa and strawberry patterned throw cushions inject pops of colour.
The Bushby Bacon Suite, a two-bedroom family space with an open-plan bathroom, is dedicated to one of The Retreat's earliest inhabitants and features a contemporary four poster bed with a navy and cream interior, pelmet and simple pleating set against red and blue Braquenié's Toile des Indes wallpaper by Pierre Frey. The suite leads to a children's room, where curtained orange bunk beds sit against hand-painted striped walls. The rooms connect to a white bathroom with a freestanding marble tub and bay windows.
Fianlly, the Percy Shelley Suite is dedicated to the poet himself, boasting expressive décor with vintage Morris & Co wallpaper. Sage green woodwork matches the tone of the freestanding bath, which overlooking the gardens, while traditional fittings include an antique dressing table with a chair and a bed with tester.
Taylor & Turner have breathed new life into the rooms too, in the form of bobbin mirrors, Rosi de Ruig lamps, scalloped-edged side tables and bright upholstered headboards. Each is a treasure-trove of pattern and personality, and the playful use of colour and antiques lends soulfulness to their unique character.
Similarly to The Mitre, the designers have placed emphasis on the entrance hall being a place for reading and relaxation, similar to a drawing room in a country home. Mohair blue sofas, traditional seating, yellow cushions and Titley and Marr green curtains make for a cosy atmosphere. Complemented by the beige walls, many of the existing fittings and furnishings have been restored, such as the teak wooden flooring. Guests are met by a hand-painted map of the local area illustrating the abundance of British pursuits on The Retreat's doorstep. Meanwhile, to the right of the grand entrance, a quote from one of Shelley's poems adorns the walls, reflecting the property's literature and arts heritage while adding to the British theme.
Situated through the entrance area, the Atlas Room is dedicated to Shelley's love for travel. Worldly paintings of hot air balloons are a subtle reminder that The Retreat is one of the best launching spots for ballooning in the UK, while light streams through to illuminate world maps, exotic prints and sage green walls. Elements of British design include Clarence House fabrics, traditional chintz and floral cushions. Individual seating areas also feature comfy armchairs, where guests can enjoy afternoon tea on palm tree plates.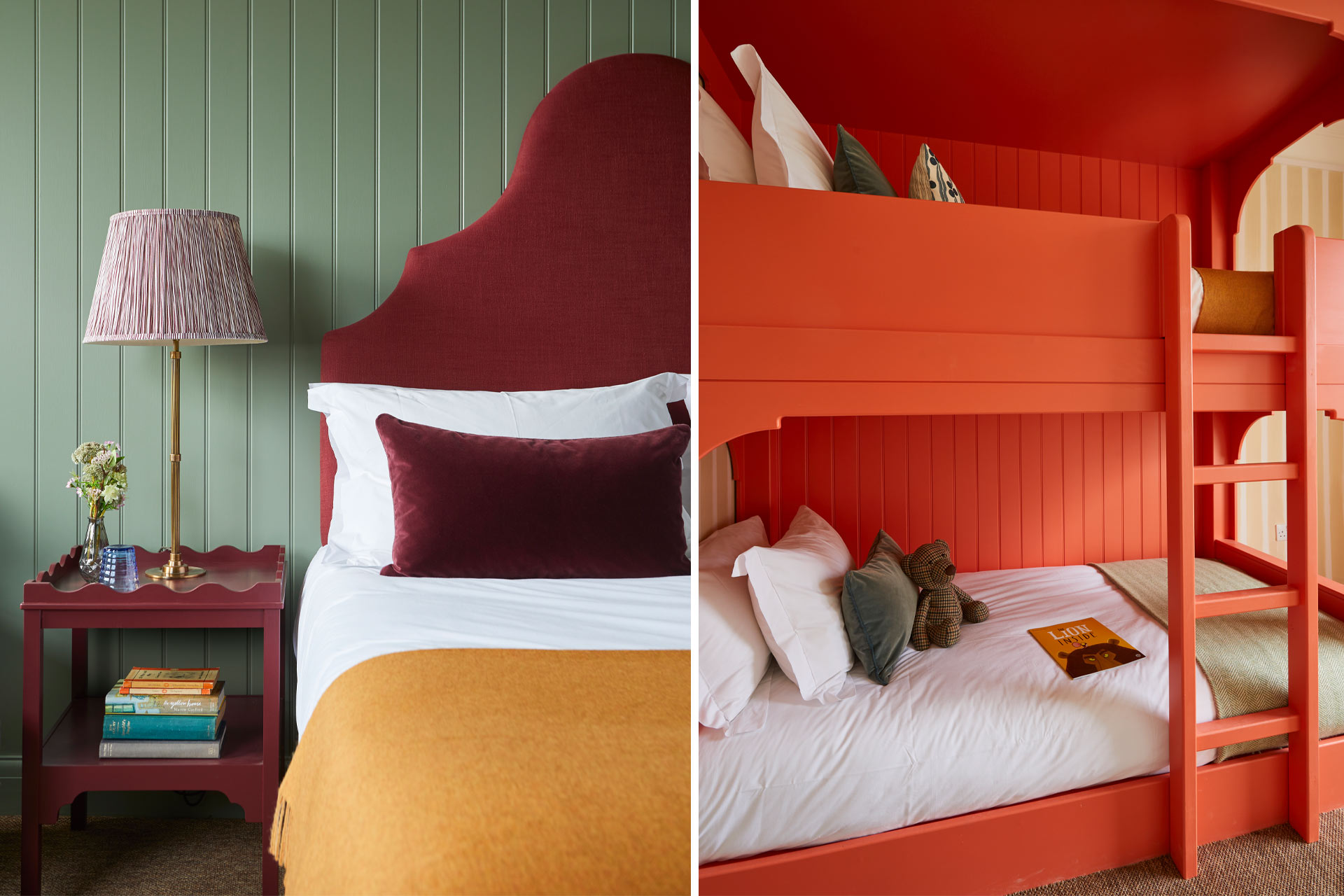 Making up the culinary programme at The Retreat will be a whiskey room, two private dining spaces and two restaurants: Yü, a Pan-Asian restaurant, and 1772, an all-day-dining brasserie. Atmospheric orb bulbs, a sputnik chandelier and golden table lamps make for a sleek and refined setting, while a five-metre brass bar with a fluted leather front is paired with elegant striped-back bar stools. Curved and straight seating booths in sumptuous deep blue and bottle green velvet add to the aesthetic and create an intimate dining experience.
Guests will travel through a lacquered petrol blue-panel corridor, adorned with Art Deco wall lights and eclectic stamps to reach Yü. A celebration of feasting and sharing, the restaurant décor is reflective of the Pan-Asian style with banquettes and built-in upholstered benches with fringing details. Brass lighting throughout the restaurant also nods to traditional Asian design, while traditional, luxurious fabric has been used to upholster a range of furnishings – including marbellised drop fabric velvet and dry green weave cushions – and lattice work wallpaper is complemented by an installation of antique woven fans.
The restaurant is connected to a formal private dining and meeting room, encased in de Gournay wallpaper and featuring an original timber fireplace. Filled with plants, natural light, leafy green and wooden furnishings meanwhile, The Orangery will be the hotel's third restaurant and is set to launch in Q4 2022.
The ground floor will also boast a Health Club, comprising hydrotherapy pools, three treatment rooms, a steam room and sauna, large gym, spin studio and a relaxation area. The tone and textures here exude a feeling of calm, while in contrast, the women's changing room is inspired by the 1950s boudoir.
"Elcot Park has a fascinating, long and rich history," comment Anneke Gilkes and Harriette Cayzer of Taylor & Turner. "It has been a privilege to be entrusted with creating a new chapter in its story with Hector and the Signet team. We have endeavoured to respect its past whilst ensuring the design meets modern standards. Our ethos has been rooted in creating a retreat for any age offering complete escapism and a sense of fun."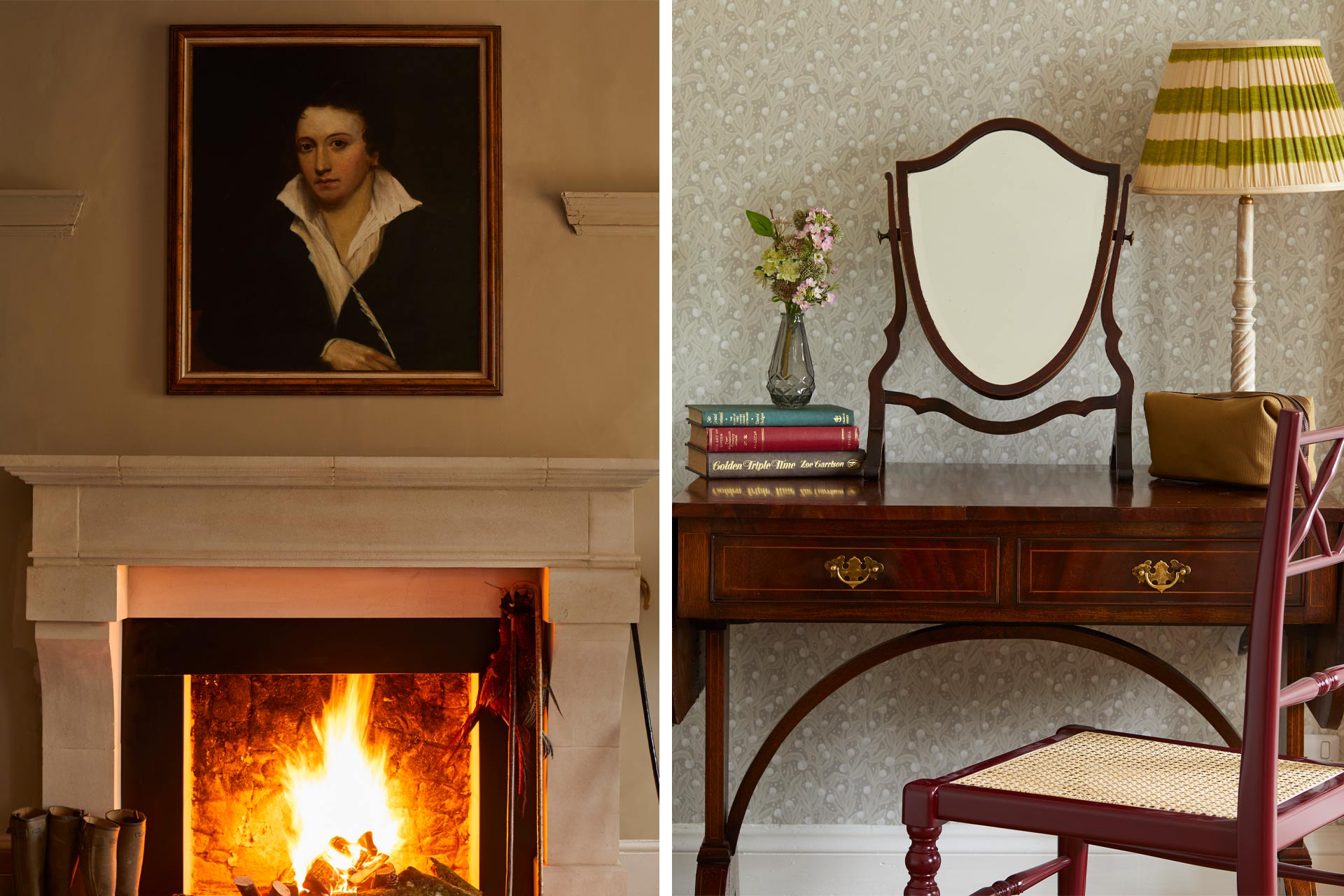 CREDITS
Photography: © Jake Eastham
The post Interiors revealed for The Retreat at Elcot Park appeared first on Sleeper.