Grupo Habita is set to open its newest property, Hotel Terrestre, in the Mexican jungle just outside of Puerto Escondido next month. A member of Design Hotels, the Oaxacan retreat is powered entirely by solar energy and champions a local, sustainable ethos – inviting its guests to reconnect with the luxury of nature.
With the environment in mind, architect Alberto Kalach and his team at Taller de Arquitectura X (TAX), together with interior design studio RB + K, have created a modern oasis that blends into the region's flora and fauna, with seven contemporary buildings constructed from locally sourced materials. The property also features cooling methods achieved through innovating building techniques rather than air conditioning.
Guest accommodations take the form of 14 interconnected villas, each with their own private pool. Exteriors are defined by earth, brick, wood and concrete, and when seen from inside, these elements are enhanced through the addition of clay and sand. An inherently earthy colour palette has been applied throughout and is complemented by custom furniture by Mexican designer Oscar Hagerman. This approach creates a harmony between the inside and out, helping to diminish any barrier typically placed between them, and is furthered by slotted wooden doors and windows, which remove the need for glass. In each building, such openings also offer direct connections between bedrooms and private garden terraces with views across the mountains.
A few steps below the villas is an outdoor bathroom, while upstairs, terraces are furnished with hammocks, lounge areas and pools stretching out towards the ocean. Bath amenities are also locally produced and fragranced with a signature copal scent. Moreover, the accommodations house a small selection of books – for guests with a quick eye or those staying longer, a larger library can also be found near the reception.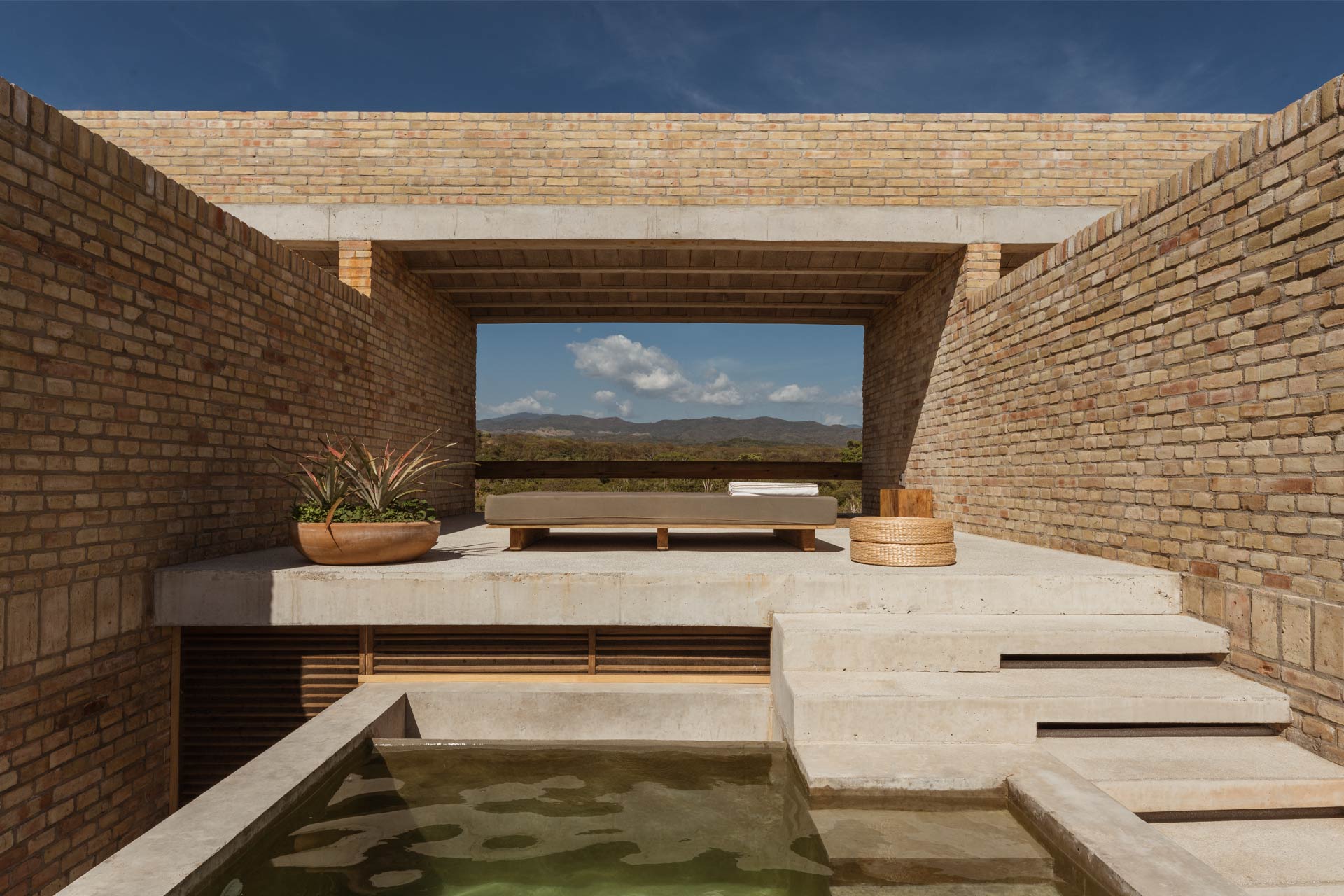 Elsewhere, Hotel Terrestre's garden surrounds a wellness area and a standalone open-air restaurant, where Mexican gastronomic heritage is fused with the region's rich ecology in an effort to help guests detox. A short walk away, a casual beach club serves health-focused drinks, ranging from ginger and cacao sods to turmeric and cayenne-pepper lemonades. The wellness area features a communal circular pool, a long swimming lane, and a hexagonal spa. The spa is replete with a chilled water tub, steam room, and indoor/outdoor showers.
The property is situated near cultural spaces such as Casa Wabi, a compound with a Tadao Ando–designed centre that hosts artist residencies and exhibitions; a ceramic workshop space with a 22-meter-tall chimney designed by Kalach; and a permanent large-scale outdoor art installation by Mexican artist Bosco Sodi. Also nearby are restaurants like Kakurega Omakase – also designed by Kalach – and small-batch mezcalerias like Cobarde. Outdoors, there are spots for surfing, hiking, horse riding, and bathing in natural hot springs.
The post Grupo Habita completes Oaxacan retreat appeared first on Sleeper.